Thank you 24seven for the invitation to try out this cool phone - Samsung Beat DJ. I would say it's really cool. Some features inside the phone really took me away. It's my first time using a touch-screen phone. It's interface is quite similar to Omnia. it's one of the most user friendly interface that I had came across with and I got the hang of it in less than 15 minutes of exploring the phone.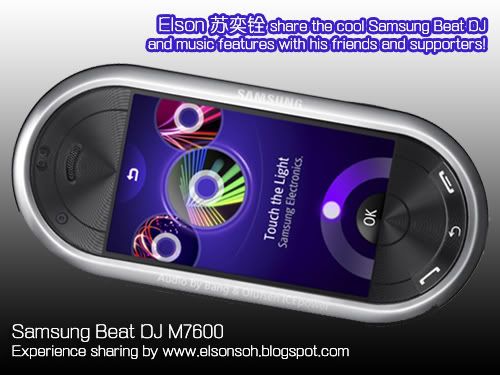 After the initial exploration, I went straight into it's unique feature in this phone called the Beat DJ. basically, it has the basic tools that a real DJ has. After selecting your favourite tune, you can start to play it and while it play, you can actually either scratch the song or add effects to it. There's this filter function, where there is a range of 10 choices for you to choose. One of the functions, they called the "looper" function, allows you to loop the part of song where you selected the loop function and they have a range of beats that you can choose, like how many beats you want that part to loop. Not forgetting the 9 other effect which you can play with. It's a totally cool program which you can impress your friends with (of course with adequete practice). The coolest part is that you can record your own version of mix.

The most important function for people nowadays would be sms I think. So to me, the sms function of a phone matters alot. I'm not a fan of touch screen smsing but this phone's touch screen sms is still ok. At least the "buttons" on the screen are large enough for me to key in the right numbers.

The design of the phone is trendy and special. Unlike the normal squarish phones, this one is more of an oval shape and it allows better grip while scrolling through or doing the "scratch". It's lightweight is also a plus point.

Some features that I dislike

The volume of it's speakers can still be improved since it's a phone that it's supposed be able to blast party music and doing a live DJ out of it, it should be able to project louder music.

The phone tends to lags too when I try to get to the menu and it get's pretty sensitive after a few touches while viewing photos.

It's 3.2mp camera was also a disappointment too. Being someone who takes photos pretty often, I'd prefer it to be at least 5mp.

Conclusion

In conclusion, I would say this phone is good. it's screen colours are also bright and brillant. I would recommend it to people who like light weighted, small, cool, trendy looking phones. and I would recommend it even more to people who likes music and likes mixing music around like a DJ. It's "swing" function further brings out the cool-ness in it. To view the next picture, swing it to the left or right! I can also do it by scrolling my thumb across the screen. A worthwhile phone to buy.

Overall rating: 4/5

Experience sharing with Elson Soh!


Check out who support Samsung Beat DJ!
http://elsonsohphoto.blogspot.com/2009/06/samsung-beat-dj-by-elson-soh.html
Check out their comment on Samsung Beat DJ!
http://elsonsohfriend.blogspot.com/2009/06/comment-on-samsung-beat-dj.html